Back in July, LG spent a lot of money to get the word out about how consumers actually prefer passive 3D TV technology to the good, old active 3D stuff that has been on the market for a whopping 18 months. Whether they're right or wrong, customers seem to be voting with their dollars as LG is selling passive 3D TVs in significant numbers with its Infinia LW6500 Series Cinema 3D LED TVs. 
The set is available in three sizes: the 47-inch 47LW6500 (MSRP: $ 1,899.99), 55-inch 55LW6500 (MSRP: $ 2,699.99)and 65-inch 65LW6500 (MSRP: $ 4,499.99), all of which sport a similar design and use the same underlying technology.  Don't be fooled by those high MSRPs as the sets can be had for much less online at sellers such as Amazon.com.  Because they are being sold for lower than the manufacturer's MAP (minimum advertised price), you'll need to put them in your shopping cart to see the current pricing (trust us – it's worth a few clicks):
First announced back in January at the annual Conumer Electronics Show, the LW6500 is one of LG's newer passive 3D TV series. These 3D sets use a technology called Passive Pattern Retarder (PPR) or Film-Patterned Retarder (FPR), which separates out the left eye and right eye signals using an on screen filter. To view the 3D effect, simply don a pair of inexpensive and light polarized passive 3D glasses.  This approach means that the set splits the TV's resolution in half in 3D mode, with half going to each eye to create the 3D effect.  But the increase in overall brightness and convenience of passive glasses over active ones may make up for this. 
This type of 3D TV is fully compatible with all of the various 3D-ready set-top boxes, Blu-ray 3D players, and other AV devices currently on the market. However, it eliminates the need for expensive battery-operated active 3D glasses by using passive 3D glasses instead. These circular polarized glasses are similar — and compatible — with the ones used in most 3D movie theaters.  Now, don't start scraping those sticky floors in search of extra pairs of glasses. LG actually includes four pairs of 3D glasses with the LW6500 TVs. If you have a larger family (or just a lot of 3D-loving friends), a 2-pack of LG AG-F210 Cinema 3D Glasses can be had for as low as $ 10.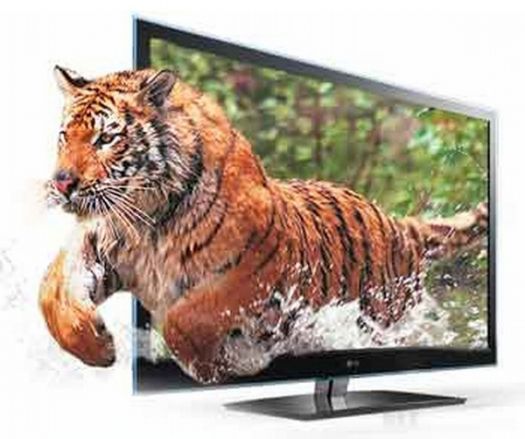 As we already mentioned, the LW6500 is one of LG's first Cinema 3D lines. Even though it's a passive 3D TV, it can still be paired with the same 3D-capable components as any active 3D TV. A Blu-ray 3D player allows you to add Blu-ray 3D discs into the mix, as well as 2D Blu-rays, standard-def DVDs, and even CDs. Of course, this TV is also a nice match for your 3D-ready cable or satellite box. Some providers, such as DIRECTV and FiOS, even offer 3D programming options through a compatible set-top.
If you don't like your 3D too in your face, the LW6500 features a little something called 3D Depth Control, which allows you to tweak the level of effects. On the flip side, if you're in need of a little more 3D content and don't have enough sources (yet), this set has a 2D to 3D conversion feature. This allows you to add some slight 3D effects to your typical 2D viewing.
With plenty of ports to select from, the LW6500 TVs offer a well-endowed rear (so to speak).
Of course, the LW6500 also makes for an excellent 2D TV. All three models in this series deliver a full 1080p image and have LG's own LED Plus technology. This boasts an energy-efficient picture, while providing greater control of brightness through local dimming technology. It should also be noted that both the 47- and 55-inch models have LG's TruMotion 240Hz technology. However, the 65-incher is slightly slower (but much larger!), with a 120Hz refresh rate.
If you get tired of watching 3D or just feel like exploring other options, the LW6500 features a host of other entertainment options through LG's Smart TV platform. Smart TV provides instant, on-screen access to services such as Netflix, Hulu Plus, VUDU, MLB.TV, Facebook, YouTube, and more. There's even a web browser, so you can check email, find IMDB trivia, and even (ahem) read the latest reviews on Big Picture Big Sound. Of course, some of those services do require that you have an account and/or pay monthly service fees (not us, of course!). However, it's certainly a nice perk to be able to access your existing accounts in one spot, on a larger screen, and in HD.

It's a kind of magic.
Additionally, Smart TV isn't just about what you can access, but how you can access it. Each set comes with something called the Magic Motion remote. A remote should be easy, right? This one is pure magic, offering a ton of features with point-and-click control and just five buttons. It even looks like a magic wand! Don't expect to have to conjure up a spell to find your favorite content, either. The Smart TV platform features a customizable dashboard. That means your interface may not look like your friend's or your neighbor's or your mailman's. The user chooses what apps should be front, center, and easy to find upon start-up.
To access all of those connected features, you're going to have to connect this TV to your home network. All three sets have a LAN port, if you prefer a hardwired connection. Sadly, there's no built-in Wi-Fi. However, if you're looking to go wireless, you'll be extremely happy to hear that LG includes the necessary Wi-Fi adapter right in the box with all three of the LW6500 TVs.
Once the LW6500 is on your home network, it will be easy to take advantage of another connected perk: DLNA support. This is sort of a forgotten feature, but still a very convenient one. This allows you to stream content from other devices on the network, such as your home computer, an external hard drive, or other compatible component, to your big-screen setup.
Aside from the aforementioned LAN port, the LW6500 also features two USB ports, two inputs for composite video and two for component (with audio for each), a PC input, and four HDMI inputs.
The LW6500 offers a unique opportunity to get in on a new, extremely comfortable 3D viewing experience, at a very affordable price — no matter what size TV you choose. Because it comes with the glasses, it's certainly is a nice way to ease into the 3D thing. If you don't have a need to do 3D today (or ever), it's also loaded with perks, making it a great option for 2D viewing as well.
Where to Buy:
Related Articles:
Big Picture Big Sound – Home Theater, HDTV, Movie Reviews